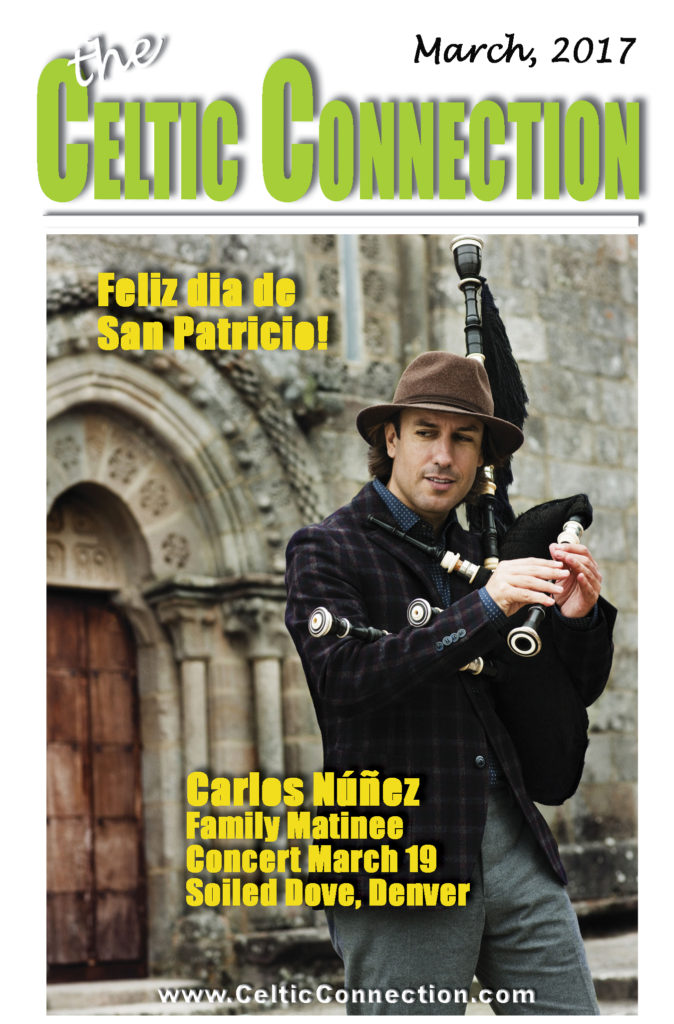 Feliz dia de San Patricio Denver!
Carlos Núñez One of the World's Most Exciting Performers, and his brilliant band (and guests),
SUNDAY March 19, 2017 Matinee 3:30PM SHOW  2:30PM DOORS  All Ages Show  Free Parking
SOILED DOVE UNDERGROUND, 7401 E. 1st AVE, DENVER CO 80203  Reserved Seats Direct ticket link: https://www.ticketfly.com/purchase/event/1405553?utm_medium=bks
(enjoy a pre-concert lunch or post-concert meal upstairs at the Tavern at Lowry)
Quotes, Band, and more concert info below:
"If it's possible to become a pop star playing the bagpipes, Núñez could be the man."_Los Angeles Times
"The Jimi Hendrix of bagpipe." _BILLBOARD
 "The Carlos Núñez Band, led by the charismatic Galician pipes and whistles star, was the toast of last year's Celtic Connections, and returned this time in no less dynamic form… Individual and ensemble playing were a sheer delight big Pete Townsendish bouzouki licks, mellifluous Spanish guitar, saucy dancing fiddle, all dappled with the liquid sunshine of Núñez's whistle, or the fiery pulse-quickening squeal of his pipes. No tricks, no safety net, just sheer bone-deep musicianship." _The Scotsman (UK)
 "…inventive, brilliant, progressive minded and a great showman to boot, Nunez fired the imaginations of his own people to such a degree that Spain's Celtic music scene is on fire" _BBC said
  Carlos Núñez comes from Galicia, the Celtic region in the North West of Spain. He is considered one of the biggest artists in the international World / Celtic Music scene, having the quality of a classical music virtuoso and the charisma of a rock star. Carlos has expanded the borders of Celtic music to Flamenco, Fado, Cuban, Mexican, Brazilian or Classical music, Movie Soundtracks, Contemporary Dance… As he describes it, he plays Celtic music with Latin passion.
Carlos became honorary member of The Chieftains when he performed and toured on their album Santiago.  The album is dedicated to traditional music of Galicia and Galician emigrants' musical folklore in Latin American music.  In 1997, the album earned the group the Grammy Award for Best World Music Album.
In 2017 Carlos celebrates 20 years since his debut album "A Irmandade das Estrelas" (released in the US by Rca Victor as "Brotherhood of Stars") that featured The Chieftains, Ry Cooder, old Cuban soneros, Portugal's Dulce Pontes, etc.  He has since released 11 albums that have sold over 1 million copies and have garnered several Platinum and Gold CDs and DVDs, as well as 2 Latin Grammy nominations.
The band line-up for the March 19 Denver show will be Carlos on the gaita, the traditional Galician bagpipe, Galician flute, ocarina, Irish flute, and whistles.  Xurxo Núñez, Carlos's younger brother, plays percussion: bodhrán, marimba, vibes, side drums, etc.( He has become an indispensable part of his brothers' albums as a recording and mixing engineer  and in concert is also a "stage animal"). Pancho Álvarez has been playing with Carlos for over 20 years. He'll primarily play guitar but can also play bouzouki, violin, mandolin, guitar, bass, viola de gamba, hurdy-gurdy, concertina, etc.  New to the band is 21 years old accordion player Itsaso Elizagoien, from the Pyrenees in Navarra, Spain, and fiddler, Carmen Gallego  (who can also play the Medieval fiddle!).  Also additional guest performers!
Carlos Núñez One of the World's Most Exciting Performers, and his brilliant band, SUNDAY March 19, 2017 Matinee 3:30PM SHOW  2:30PM DOORS  All Ages ShowSOILED DOVE UNDERGROUND, 7401 E. 1st AVE, DENVER CO 80203 All Seats Reserved:  $26.00 and $32.00 at www.SoiledDove.com or 303-830-9214 Show information contact Celtic Events 303-777-0502
MUSIC 5 track CD sampler "Inter-Celtic"https://www.hightail.com/download/elNJek9rNXY1bmhjR05Vag
VIDEO "Mambo" https://www.youtube.com/watch?v=2l1fU5aRFh8