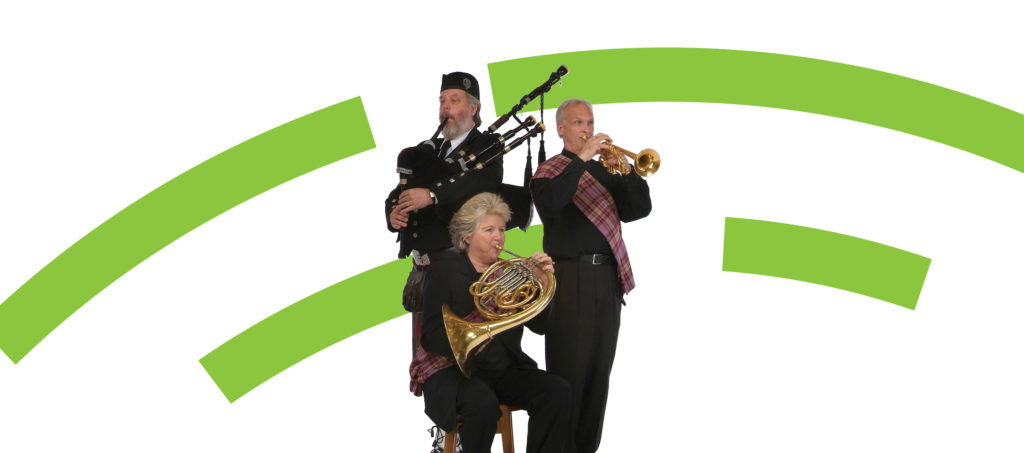 The Denver Brass and Friends Go Celtic in March: Performance on 10,11,16,17,& 18
Founded in 1981, The Denver Brass ranks itself as one of Denver's largest and longest-running nonprofit performing arts organizations. Their concert schedule encompasses a diverse mix of classical, pops, jazz and family programs, along with extensive community outreach efforts.  Every March the award winning group "Celtic – Ups" with wonderful Irish/Scottish themed shows for the whole family.
On March 10 & 11 (3:00pm) will offer "Echoes of the Emerald Isles" with Celtic Colorado Pipes & Drums and Rick Seaton on Pipe Organ. Experience unparalleled Celtic inspiration in an acoustically magnificent setting. Pipe organ, brass and bagpipes come together to create a riveting and emotional celebration of Colorado's Celtic heritage. If it's goosebumps you're after, this is the concert for you!
Selections from: Amazing Grace, Skye Boat Song (Theme from Outlander), Highland Cathedral, Steam Train to Mallaig, Ye Banks and Braes O'Bonnie Doon. Shows will be at Bethany Lutheran Church – 4500 E Hampden Ave, Cherry Hills Village, CO 80113 Tickets starting at $22
Brass, Bagpipes & Co.: Off Kilt-er will be the big show at the Newman Center March 16 & 17 – 7:30pm, March 18 – 2:00pm.  With Celtic Colorado Pipes & Drums, Wick School of Irish Dance, Rocky Mountain Highland Dancers, Todd Teske – Tenor, Joanna & Iain Hyde – Fiddle & Guitar, It will be a full-blown St. Patrick's Day extravaganza. If you're looking for a weekend of non-stop fun, don't miss this annual sold-out show, you'll be guaranteed a grand time with great company.
Selections from: Firedance, Loch Lomond, Celtic Air on a G String, Ancient Threads, Megalomania Finale and more!
Newman Center for the Performing Arts – 2344 E Iliff Ave, Denver, CO 80210 Tickets starting at $30 303-832-Horn(4676) newmantix.com/denverbrass