Eileen Ivers  returns to Colorado with her "Universal Roots" project July 13 at Soiled dove Underground
Direct link: https://www.ticketfly.com/purchase/event/1487536?utm_medium=bks
(photo captions 1: Another encore moment for Eileen Ivers and her band, Photo caption2: Folks lucky enough to have seen the energetic Eileen Ivers performance at the CUIS fest some years ago remember how she jumped off the stage and created a conga line around the festival grounds!)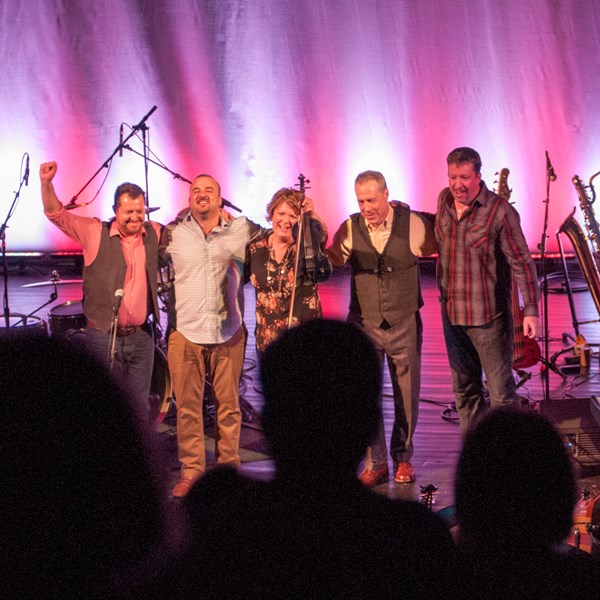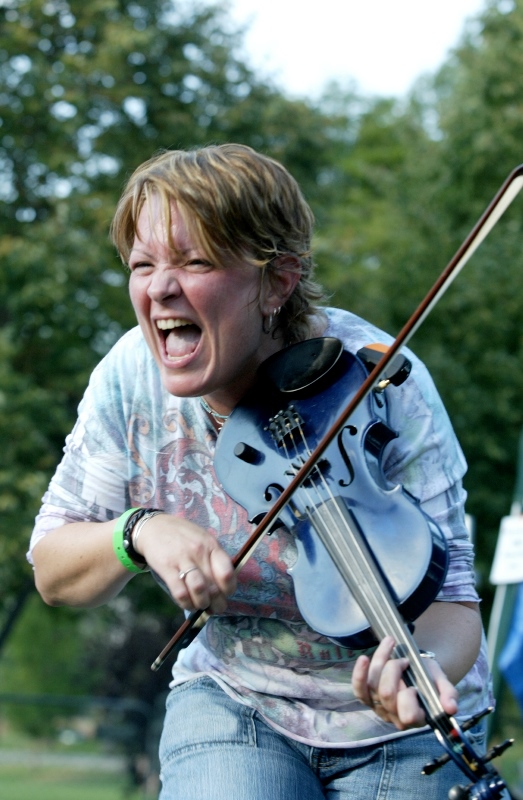 Eileen Ivers has wowed Colorado for years – from showcasing her fiddle playing on center stage in Riverdance, performing with the Colorado Symphony, and headlining festivals from Denver to Vail.
On July 13 you will be able to enjoy the excitement of Ivers and her band in the intimate comforts of the Soiled Dove Underground in Denver.  Ivers will introduce her current touring project, "Universal Roots", a five-member ensemble featuring Matt Mancuso (lead vocals, guitar, trumpet, fiddle), Buddy Connolly (button accordion, whistles, piano, vocals), Lindsey Horner (upright and electric bass, baritone sax, vocals), and Dave Barckow (lead vocals, percussion, guitar).  Together with Eileen on fiddle, mandolin, banjo, bodhran, and live looping, the group will connect the roots of Celtic and American Roots Music from Bluegrass music to Country music, and French-Canadian music to Cajun music, through a staggering diversity of instruments and vocals.
Ivers is not only a world class performer, she is a boundless entertainer. The Irish Times said, "She electrifies the crowd with a dazzling show of virtuoso playing …then she focuses her attention outwards to the audience, who shout and cheer and answer her calls in a deafening chorus."
Her musical accomplishments to date are staggering.  Grammy awarded, Emmy nominated, London Symphony Orchestra, Boston Pops, guest starred with over 50 orchestras, original Musical Star of Riverdance, Nine Time All-Ireland Fiddle Champion, All-Ireland Banjo Champion, Sting, The Chieftains, Patti Smith, Al Di Meola, founding member of Cherish the Ladies, movie soundtracks including Gangs of New York and Back to Titanic, performed for Presidents and Royalty worldwide…this is a brief list of accomplishments, headliners, tours, and affiliations. Fiddler Eileen Ivers has established herself as the pre-eminent exponent of the Irish fiddle in the world today and a pioneer and educator in her musical field.
The Washington Post states, "She suggests the future of the Celtic fiddle."  Billboard Magazine calls Eileen "a sensation", the Irish Times raves "a virtuoso", and her hometown New York Times recognizes Ivers as "the Jimi Hendrix of the violin".  Ivers' recording credits include over 80 contemporary and traditional albums and numerous movie scores. Even though she has won over 30 All-Ireland Championship medals (one of the most in the history of the competition), Eileen is hailed as one of the great innovators in the Celtic, Roots and World music genres.  She has influenced scores of young players in these traditions.
Her latest recording is 2016 release, "Beyond the Bog Road" on eOne Records.  Irish Music Magazine called it "a triumph …a musical Magnus-Opus", and the album reached number one on the Alt-Country Roots Music Chart.  The CD and its extensively researched sixteen-page liner notes, written by Eileen, focuses on the influences of the Celtic tradition on Roots music (bluegrass, French-Canadian, Cajun, Appalachian, Americana) and how the music journeyed on to become a fundamental ingredient of the American Country music tradition.  Pre-production is underway for Eileen's next recording project, which will be released at the end of this year.
Your Celtic Connection is over the moon to present Eileen on July 13 so please join us for what will sure be an evening of entertainment to remember:  "Ivers has charisma and technique to burn …it's all about tradition and renewal." – Boston Globe
Eileen Ivers Universal Roots, Thursday July 13  7:30PM Show  (6:30 pm Doors)
Soiled Dove Underground  7401 E. 1st Ave Denver (under the Tavern at Lowry-Free parking)
Reserved seats $24 and  $29 All Ages Show (under 21 with Parent or Legal Guardian))
Direct link: https://www.ticketfly.com/purchase/event/1487536?utm_medium=bks
or www.SoiledDove.com  or call 303-830-9214.  Call the Celtic Connection/Celtic Events with any show questions 303-777-0502