Inaugural Scottsbluff Celtic Gathering  Celebrates Heritage and History May 19 – May 21
Scottsbluff invites all to their free "Celtic Gathering" which will be held in their downtown May 19 through May 21.  Activities will include: Music, dance, a Scottish movie the park, the gathering of the clans, a parade, food vendors, children's activities, story tellers, sporting events, clan tents, sword fighting, pub crawl and a golf scramble.
The organizers, Scotts Bluff Area Visitors Bureau, said that the Celtic festival is an attempt to spread culture, activities and history in their community. "We have a rather large Scottish and Irish Heritage and want to share our culture with other clans across the tri-state area" said spokesperson Brenda Leisy.
One little bit of "local" Celtic history that the fest shared was the origins of the Buffalo Plaid:
Malboro Man wore it . . . Roy Rogers wore it . . . Tom Mix wore it . . . as did the mythical Paul Bunyan, legendary lumberjack of a thousand comic strips. And no self-respecting gunslinging cowboy would be seen without it . . . .Buffalo Plaid . . . as American as apple pie! Or is it?
Officially, Buffalo Plaid or check is " plaid with large blocks formed by the intersection of two different color yarns, typically red and black." Hang on a minute . . . .isn' that the Rob Roy tartan? It most certainly is and it's said that it was introduced to north America by a descendant of Rob Roy – one 'Jock McCluskey' sometime lawman, bounty hunter, fur trapper, gold miner and eventually Indian trader.
In the Indians' eyes, McCluskey was no ordinary white man. Awed by his strength and size, he was hailed an invincible warrior. Both feared and revered, he was equally admired for his compassion. In the anti-Indian holocaust that followed Custer's Last Stand, he was a rare white man indeed who dared to champion their cause. His reasons were as simple as they were personal: Their persecution and plight mirrored his own family clan' descent from nobility to hunted criminals.
Befriended by the Indians, McCluskey became one of the era's near vanished middlemen: A white man welcome among the Indians who effortlessly mingled between two warring rivals without fear of retribution. From the Lakota Sioux and Cheyenne, McCluskey bartered for buffalo pelts, offering a myriad of finished goods in exchange, the most coveted among the Indians were the heavy woven Scottish blankets, their dense, hearty weave colourfully emblazoned with his clan tartan' signature red-and-black colours.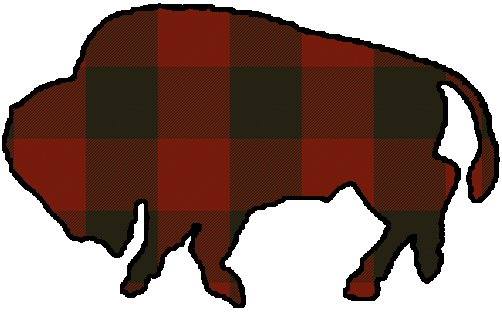 According to McCluskey's great nephew, Gregor McCluskey, Sioux and Cheyenne warriors were in awe of its colour. None had ever seen such a deep, rich red. They believed its intensely rich hue of red to be a sorcorer's hex, a dye distilled from the spirit blood and ghostly souls of McCluskey's prey and enemies, a belief McCluskey did little to correct. Worn in battle and draped across their war ponies, it was prized as a good luck talisman and revered as a spirit guardian that would deliver immortality, even in the face of death itself.
Sioux and Cheyenne warriors called it " plaid" (the Gaelic for it was pronounced pladjer) as did U.S. Army outpost and fort traders who bought McCluskey's bartered skins and plaids. Hence was born, sometime in the late 1880s, the unique and confusing American term plaid referring to tartan itself rather than the use to which it was put. It was a very short step from there to the tartan of McCluskey's Rob Roy blankets becoming known as Buffalo plaid.  (from www.tartansauthority.com)
(Jock McCluskey roamed the new West from Montana to Nebraska, but Nebraska does have good argument to claim the color Red! J)
Scotts Bluff is just under 200 miles from Denver (about 3HR drive)  Ms. Leisy also pointed out a number of local attractions in the area including: Agate Fossil Beds National Monument, Riverside Discovery Center, Scotts Bluff National Monument, Legacy of the Plains Museum, Robidoux Pass National Historic Landmark and Trading Post, Wildcat Hills State Recreational Area and Nature Center, Lake Minatare State Recreation Area, and the Chimney Rock National Historic Site and Visitors Center
The official address of the site of the first "Scottsbluff Celtic Gathering " is the  Downtown 18th St Plaza 1801 Broadway St Scottsbluff,  NE 69361    www.Scottsbluffcelticgathering.com